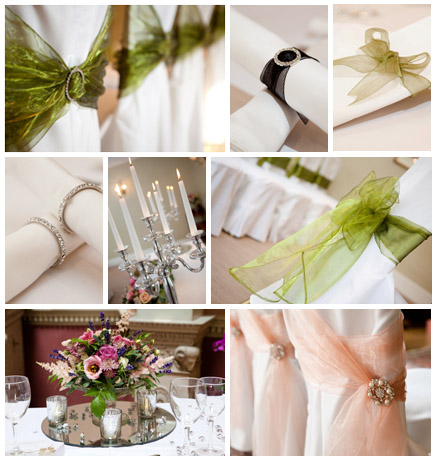 'Thank you so much for providing the chair covers and bows for our wedding reception. Our  family and friends commented on how wonderful the bows were. We are so glad we went for chair covers as the chairs provided would have clashed with our colour scheme! Thanks again.'

Amanda and Russell Field
'Just a quick e-mail to say thank you for yesterday. Everyone had an amazing time and the chair covers were beautiful. They really finished the room off nicely.'
Mr and Mrs Hitchings
Allerton Castle Oct 2013
'Thank you for making our wedding breakfast room look so great.The colours were amazing and commented on by many. It was above and beyond what we had imagined and we are very grateful.'

Suzanne and Mark
Allerton Castle
July 2013
'The recent marriageof my daughter was one of the happiest days in my life and all the guests have said that it was the most enjoyable and well organized wedding ever. I had to write to thank you for your excellent contributions to that success. It is sometimes the small details which can make the difference, with your supply of chair covers etc being an example. You were totally flexible in your approach and nothing was too much trouble. Thank you'.

Mr Mickleweight
Fountains Abbey May 2013
'We both wanted to say a big thankyou for everything you did for our special day. The room looked so fantastic,everything you did was just perfect in every way. We had so many compliments from friends on how beautiful the room looked. We will always be very grateful for all the hard work you put into making our day so special'
Sue and Andy
The Mansion
'What more can I say, but an enormous thank you! Our room looked stunning, exactly as we had envisaged and you really blew our guests away! Thank you also for our very posh chocolate truffles…possibly the yummiest ones ever! Thanks again.
Amanda and Richard
The George at Wath
'Yet again you were just outstanding to work with. You did our wedding at Ripley castle on Fe 20th 2009 and now the Summer Ball for us in Steve's year at Captain at Pannal Golf Club. At each function you were totally professional,reliable and the speed with which you answer e-mails is amazing! Your chair covers really did make all the difference to creating the very different atmospheres we needed for each event. We both felt total confidence in you each time. It's been a pleasure to meet you! Hopefully we will be able to call on you for another function in the not too distant future and certainly for our children's weddings we will be in touch!'

Stephanie Vorce-Walker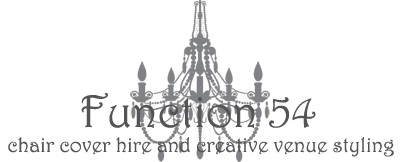 Testimonials
'We had the most amazing wedding day on August  9th, thanks to you, the room at The Mansion looked absolutely stunning. The attention to detail and the service you provided was exquisite. Thank you so much for making our day one to remember forever-our guests liked some of the décor so much, they went home with the crystals and pearls!'

Mr and Mrs Thornton Aug 9th 2014
'I met Tahlia at a wedding fayre which was taking place at the wedding venue I'd chosen, Tahlia's products immediately caught my eye. They were the quality I was looking for, with ample choice. Tahlia was lovely from start to finish, very professional and accommodating. I was so pleased with how the reception room looked on the day. Tahlia helped make my dreams reality-thank you! I would highly recommend Function 54 to anyone wanting to add that something special to their big day.'

Caroline White
Bridge Inn hotel and spa 2014
'Just a quick note to say thank you so much for the fantastic service that you have provided from the minute we met you right until our wedding day. We knew from the moment we met you, we wanted you to help us with our wedding. You have always been so helpful, friendly and efficient. The tables looked amazing and I couldn't have been happier with the quality of the seat covers and bows they were just perfect and really made the whole thing come together. The fact you went out of your way to collect the napkins from our venue, hand tie them and deliver them back was also very very much appreciated. We are both so happy we picked you and wouldn't hesitate to highly recommend you to anyone we meet! Thanks so much once again'
Catherine and John
Rudding Park Hotel and spa Sept 2014
'Just a big massive thank you for making our breakfast room look so beautiful. The colour was perfect'
Charlotte Turnbull
Allerton Castle August 2014
'Thank you providing our chair covers for our wedding at the Pavillions of Harrogate. It made the room look beautiful'.

Charlotte and Rob
'Thank you so much for all your help with our wedding. You were an absolute star to deal with,so helpful, efficient and friendly.Thank you for helping to sort the chair disaster on the day. Both the ceremony room and marquee looked fabulous. We were so pleased with the overall look. I'll definitely be recommending you to my friends when they tie the Knot'.

Sian and Mike Foster
Fountains Abbey
'Just wanted to say a big Thank you for making the chairs look so beautiful for the Dr Oetker event yesterday. It made our job so much easier when we arrived! I really appreciate all your help and hope to use you again in the future.
Rebecca Holt
Pavillions of Harrogate Showground